Linda Mariotti was our keynote speaker this morning and gave a wonderful presentation titled, "Educating the Whole Child with 21st Century Skills"
She discussed the differences between digital immigrants and digital natives and contrasted the skills of 20th century educators with those needed by 21st century educators. Are you ready for our 21st century students?
More about Linda: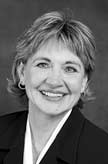 Linda began her career as an educator in 1971, teaching middle school English in California. Moving to Utah in 1985, Linda taught English in junior and senior high schools in Granite School District. She moved to the district office as a secondary language arts/foreign languages curriculum specialist in 1992. After receiving her administrative credentials in 1996, she worked as an intern administrator, assistant principal at both the junior and senior high school levels, and then as a junior high school principal. Linda returned to the district office in 2000 as the director of curriculum services. The following year she assumed her current position of assistant superintendent.