Here is where we sell our training manuals, at a discount! Contact Para@nrcpara.org to order today!
Supervising Paraeducators, $40.00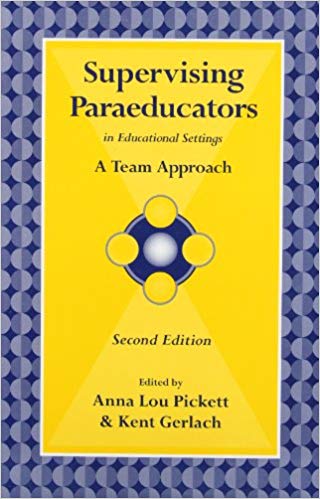 $40.00 Supervising Paraeducators in Educational Settings – A Team Approach (2nd Edition) by Anna Lou Pickett and Kent Gerlach. (Currently selling on Amazon for $79.99) Now in its second edition, this book provides teachers, speech-language pathologists, administrators, and physical and occupational therapists with the skills and knowledge necessary to work more effectively with paraeducators. Paraeducators contribute significantly to the support of students with disabilities. This book provides guidelines and strategies for school professionals to better direct and manage the work of paraeducators. Role clarification, effective supervision and management, good communication strategies, and teamwork with teaching assistants are all discussed in this highly practical book. Table of Contents: 1. Paraeducators in Educational Settings: Framing the Issues 2. Team Roles in Classrooms and Other Learning Environments 3. Management of Paraeducators 4. Team Roles in Therapy Services 5. Team Building and Communication 6. Paraeducators in Educational Settings: Administrative Issues 7. Professional and Ethical Responsibilities 337 Pages – Softcover Binding – ©2003 – English
Paraeducators in Schools, $24.00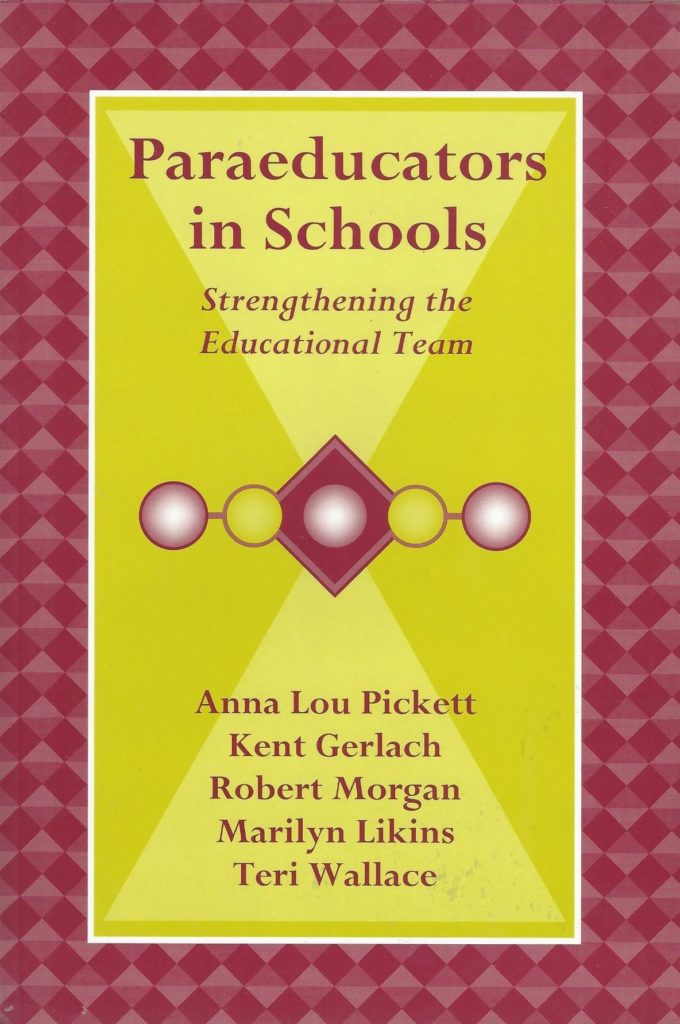 $24.00 Paraeducators in Schools – Strengthening the Educational Team by Anna Lou Pickett, Kent Gerlach, Robert L. Morgan, Marilyn Likins, Teri Wallace (Currently selling on Amazon for $36.50) NO LONGER AVAILABLE THROUGH PRO-ED Paraeducators in Schools is based on a philosophy that recognizes the value of a highly skilled paraeducator workforce who assist teachers to provide quality education for all learners. The goals and activities incorporate currently recognized best practices in adult education. The format in each of the chapters follows a similar pattern that includes: instructional objectives, definitions of key terms, competency-based instructional content, discussion questions, case studies, and other learning activities. Chapters Include: I Paraeducators: Their Roles and Responsibilities II Teamwork, Communication, and Problem Solving III Exploring the Roles of Paraeducators in Instruction IV Promoting Positive Behavior: What Works and What Doesn't! V The Importance of Paraeducator Preparation and Ongoing Development 150 Pages – Softcover Binding – ©2007 – English PLEASE CONTACT Para@nrcpara.org TO ORDER TODAY!!
Additional Training Manuals
The National Resource Center publishes six different paraeducator training manuals, including our Core Curriculum for Paraeducators. The goal of these instructional materials is to provide personnel developers and trainers with resources they can use to improve the performance of their paraeducator workforce.
The manuals below are available from our online storefront. These are Paperback.
The manuals below are available by emailing us:
The content in this instructional programs is based on a core curriculum that recognizes the generic nature of the competencies paraeducators must demonstrate to work in various education and related services programs. The individual training programs focus on the specific skills paraeducators must have to work with children and youth of different ages, who have different levels of disabilities and who have different learning needs. Also available is a training manual to help teachers gain a better understanding of their new roles and to prepare them to supervise and work more effectively with paraeducators. All materials have been extensively field-tested throughout the United States.