Introduction
The need for Intervener training programs has long been recognized in the field of deafblindness. Although some local, state, and regional programs have been developed to address this need, there is a general lack of common standards, competencies, and practices among these training programs.
The National Intervener Credentialing Program establishes common standards, competencies, and practices in a way that is both rigorous and affordable. Administrators of local and state education agencies can be assured that interveners who have completed the approved training, practicum, and credential process, have met standards that are rigorous and recognized beyond their local school, district, and state.
Intervener Requirements
The requirements for obtaining the National Intervener Credential
include:
A minimum of 10 hours of credited coursework from an Institution of Higher Education (university or college). This coursework must include a supervised practicum experience.
A Practicum experience (minimum of 2 credit hours) under the supervision of the course instructor and the guidance of a trained
Intervener Coach. This practicum includes a minimum of 100 hours of contact time with an individual who is deafblind and a minimum of 3 coaching sessions.
A completed Intervener Portfolio based on the CEC National Intervener Competencies which provides documentation that the intervener has acquired the knowledge and skills needed to be an effective intervener.
After you have completed the coursework, you can download the Intervener Credential Application here
Resources
The Credential
There are now two programs that offer coursework towards credentialing: SKI-HI at the Center for Persons with Disabilities located at Utah State University and Central Michigan University.
Click to learn more about the Utah State online program and the Central Michigan University Program
for information about Central Michigan University registration.
The NRCP welcomes other intervener training programs to apply for national credentialing. Please contact Marilyn Likins, Executive Director, NRCP to begin the dialogue, discuss possible options and answer any questions or concerns. Marilyn can be reached through e-mail at marilyn@nrcpara.org.
If you are interested in developing a higher ed training program for Interveners please click on the link below.
National Intervener Credential Program Criteria Checklist
Credential Approved? Apply for Certificate
Please Contact Us if you have any questions.
Map of Credentialed Interveners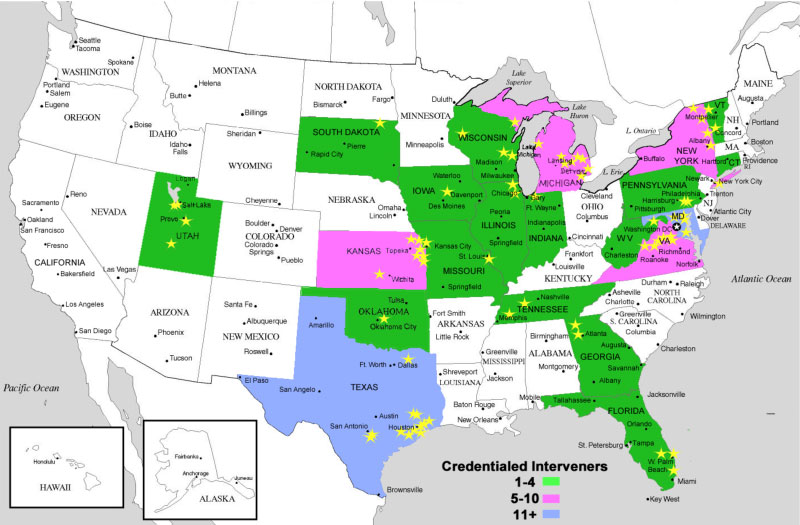 Map of Interveners in the Pipeline