In October of 2021, 225 participants from 16 states registered for our Western Regional Conference. The Central Regional Conference, held in December 2021, attracted 63 registrants from 10 states. Our NRCP Eastern Regional Conference had 134 participants from 20 states, including Bermuda.
In total, 421 participants from 33 states across the nation registered for all three conferences. Over 87% of participants, 372, were paraeducators. These conferences were designed with the hope and intention of having a large representation of paraeducators in attendance to receive first hand instruction and training.
Overall, we received overwhelming positive feedback (Visit each link to see more feedback on the conferences: Western, Central, Eastern ). To improve future offerings some participants noted that the evening hours were the most challenging aspect of the conferences, while others preferred it. We will be considering that and other feedback as we plan future conferences. Participants also indicated specific topics of interest they would like addressed in future NRCP trainings. Ideas such as Autism, behavior, leadership support and many others were shared. We hope to use these suggestions to offer more trainings on a wide variety of topics. Your opinion is very important to us, please take a moment to let us know what trainings you would like to see by visiting here.
Thank you our amazing Sponsors! The IRIS Center and 321 Insight sponsored our Eastern Conference! We appreciate their support and all they do!
---
Total 421 Registrants
| | |
| --- | --- |
| Registration Type | Registrant |
| Paraeducators, ESPs/Staff, Parents | 372 |
| Teachers, related service providers/SISPs | 33 |
| National and State Administrator | 3 |
| Sponsor | 2 |
| Union/Association Staff | 1 |
| Director/Executive Director | 3 |
| Local Administrators | 7 |
Chart showing the numbers of registrants for each category. 372 paraeducators, 33 teachers, 3 national and state administrators, 2 sponsors, 1 union staff, 3 directors/executive directors, and 7 local administrators.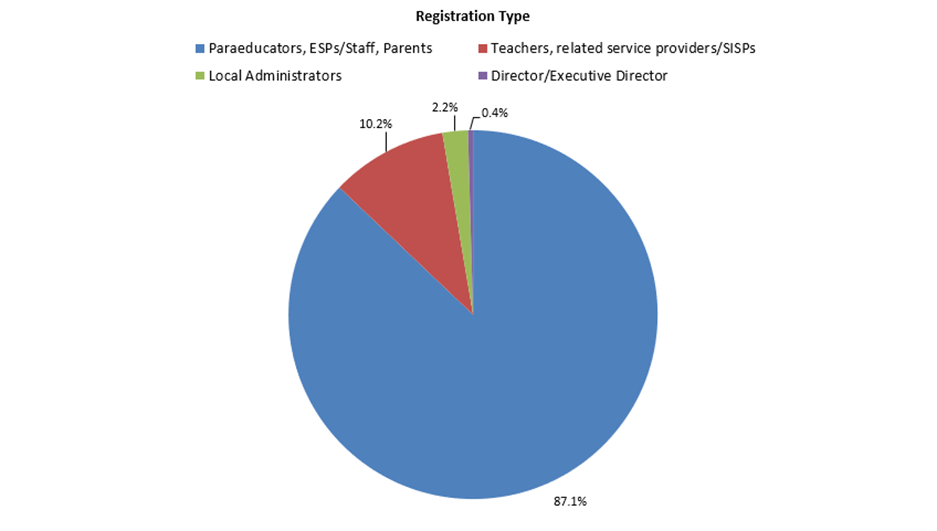 Participating States by Regions:
Western:
Alaska
Colorado
Hawaii
Idaho
Iowa
Michigan
Montana
Nevada
New Mexico
North Carolina
Ohio
Oregon
South Dakota
Texas
Utah
Washington
Central:
Arkansas
Colorado
Florida
Iowa
Kansas
Minnesota
Montana
Oklahoma
Tennessee
Wisconsin
Eastern:
Arizona
Bermuda
California
Colorado
Florida
Iowa
Kentucky
Maine
Maryland
Michigan
Minnesota
North Carolina
Oklahoma
Oregon
Rhode Island
Tennessee
Utah
Virginia
West Virginia
Wyoming